The Beauty of the Skyline
Though living in the burbs, even temporarily, drives me nuts, but it does afford me many opportunities to relish in the beauty of the Minneapolis skyline as I drive in on southbound I-35W. With music pumping, I always gasp in wonder when, cresting a hill, the cluster of Minneapolis skyscrapers emerges before me: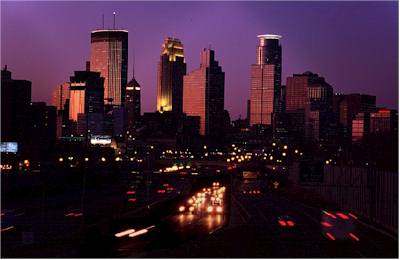 Skylines are beautiful, dramatic experiences. My girlfriend and I have an ongoing debate about which is better: the Midwestern city skyline, visible from afar owing to the flat plains, or the East Cost city skyline which, surrounded by hills and mountains, reveals itself suddenly. We can't decide on one or the other.
Pittsburgh, for instance, is quite amazing. The skyscrapers are all tightly clustered, and for the most part each building is architecturally interesting. Moreover, the skyline is totally hidden when approaching city; hidden, that is, until the last minute when you come over the last hill on southbound I-579, or emerge from the Fort Pitt tunnel. The sudden, unexpected enormity and beauty of these downtowns is breathtaking. All of a sudden you are face to face with this:
On the other hand, there are cities like Minneapolis, Cleveland, and Chicago, all of which can be seen at a great distance. The emotional experience is more gradual, and gives one a sense of pilgrimmage as one approaches. Approaching a Midwestern city reminds me of approaching a great cathedral, visible from a great distance and signaling is significance from afar. Consider Chicago:
So, which do you prefer? Or did I forget an entire category?