More Transit Ideas: Scooters for Everyone!
I've said it before, and I'll say it again: the personal automobile is the central challenge / problem / hurdle / issue of all urban planning. Cars are essential to modern American life. They provide us with mobility, leisure, entertainment, an outlet for conspicuous consumption, freedom, and class status. They also saddle society with carbon emissions, run over pedestrians, make biking difficult (if not intolerable in places), insulate (and isolate) us from our fellow humans, encourage urban sprawl, make a lot of noise, etc.
I'm trying to think creatively these days about how to reduce our dependence on the private automobile. We cannot simply remake our entire urban (and metropolitan) systems at once. We must, instead, pursue an incremental approach. It is with this in mind that I'm thinking more about scooters (and full-size motorcycles, for that matter) as one possible solution to the problem of the car.
Scooters (mopeds, whatever) are excellent in cities that do not depend on highways for intra-city travel. They get great gas mileage (60+ mpg), cost a lot less than cars, and very importantly take up very little space. Since space is at a premium in an urban center, any device that can reduce an individual's spatial needs is great news. In the space of one parking spot (15' x 10') your can easy park a half-dozen scooters.
To be fair, there are indeed drawbacks: scooters are much more dangerous, especially at night. They require additional training to operate, and unless people buy full-size motorcycles highway travel is out of the question. Nevertheless, I think it's feasible. If you doubt that a population can, as a whole, embrace the scooter, I'll leave you with this image of scooters parked in Taiwan: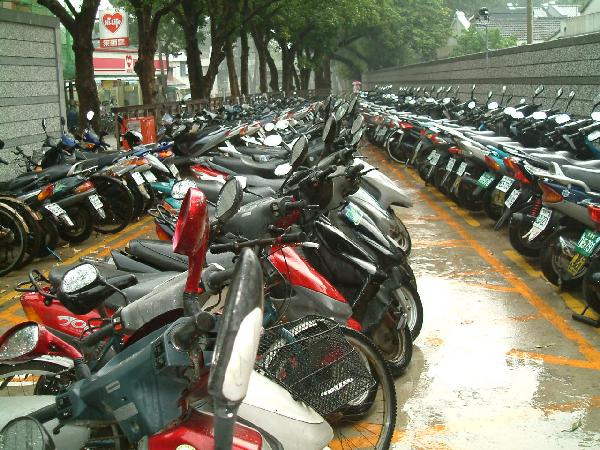 Monday: Transit Ideas
Tuesday: Scooters for Everyone!
Wednesday: Apartments Without Kitchens!
Thursday: Even More Ridiculous Transit Ideas
Friday: Urban Parks